Is this the year to rent a houseboat? If so, you will not regret it, but let me offer you some suggestions and advice before you head out onto the water. Our Dale Hallow House Boat Adventure was an amazing house boat adventure, indeed. With some of my tips and tricks, yours can be, too!
INTRO: VACAY ON THE WATER? YES, PLEASE.
I have so many wonderful memories of fun around water. I grew up on the water. My parents purchased their first boat when I was somewhere around the age of 8 or 10 years old.
So, I have no idea why I hadn't thought to take my own children on a lake vacation before. I always fell into the cliche beach/hotel vacation planning–but, not this year! When I told my husband that I wanted to plan a house boating vacation, he seemed a bit stunned. He exclaimed, we don't know how to drive a house boat! I challenged him and let him know that if he didn't give it a go that I was going to drive the boat myself!
Renting a houseboat for the first time can be very anxious. So, I have done my best to compile enough information so that you know how to take a houseboat vacation with your family, too.
However, since I had not rented a house boat before, it left me feeling extraordinarily anxious that I was going to exhaust all of our money on a rental that was going to disappoint.
Happily, I was not disappointed and, in fact, was very satisfied with our boat and our marina! I left my trip thinking: this is one situation where the saying "you get what you pay for" definitely applies. We rented our house boat from Sunset Marina and Resort, if you would be interested in checking them out.
I will share some images from our trip and give you a break down of suggestions, tips, packing lists, regrets and wishes.
WHAT TO BRING
We were packed, for sure and TIGHT!
Packing is not your standard "packing". Think: CAMPING…but on water…with a kitchen…and bathroom. It is darn near the same–kinda. Once I confirmed our reservation, I started a vacation folder with all of my notes and ideas and grocery lists and packing lists stuffed inside. I took to Pinterest and started a section for camping food ideas and houseboat food ideas, as well.
For starters, decide how many mornings, days and nights you will be traveling and days on your boat and then traveling home. You will need to plan for all three meals while on your boat and then what you are going to eat while traveling, depending on how far away from the lake you are.
You will need to pack:
Coolers and ice
Swim suits, towels, rafts and swim toys
Breakfast food
Lunch food
Dinner food
Snacks
Drinks
Toiletries and bath towels, wash clothes, etc
Entertainment
Clothing
Misc.
WHAT I ENDED UP PACKING:
---
FOOD:
1 four foot long cooler
2 gallon milk jugs with frozen water for cooler
2 gallons of milk
pudding cups
bucket of gum
hot dogs, brats and buns
ketchup and mustard and mayo
bologna and ham
two loaves of sandwich bread
homemade brownies, blueberry muffins and gravy w/sausage for biscuits and gravy
two containers of biscuits to cook
four bags of chips
hamburger meat and buns
frozen taco meat for walking tacos
ingredients for walking tacos
two 48 count packs of water
canister of drink powder
four boxes of cereal
cheese slices
lettuce
tea, for me
6 2-liters of pop
Bulk size box of assorted candy bars
WATER FUN:
2 donut rafts
1 duck raft
1 pizza raft
lemon raft
snorkel gear x 4
2 kayaks
Sea horse noodle
Beach towel x 7
sunscreen
fishing poles and bait
*****fishing license***** ordered online
swimsuits (I brought more than one so that I could alternate mine)
CLOTHING:
sundress for me
Chaco® sandals or similar
Flip flops
Gym shoes (if you don't have something similar to Chacos, Tevas or Keens) and socks
Shorts and shirt for each day
pajamas
personal items
hat or bandana
MISC:
Wireless speakers
Puzzle
Cards of all sorts
Catch Phrase®
Farkle®
DVD's
---
"A little nod to the Titanic as we head out for the first time. Silly boys."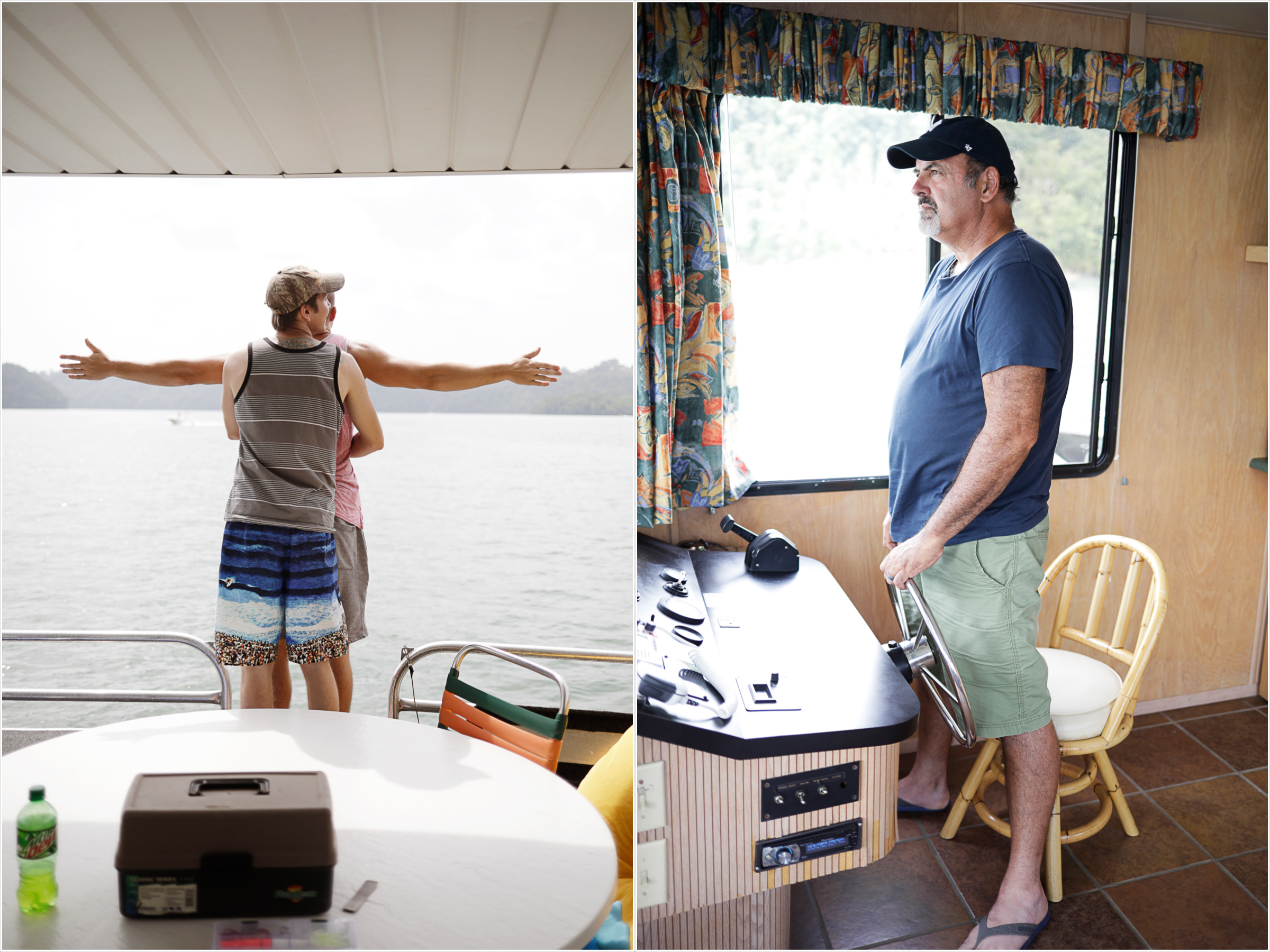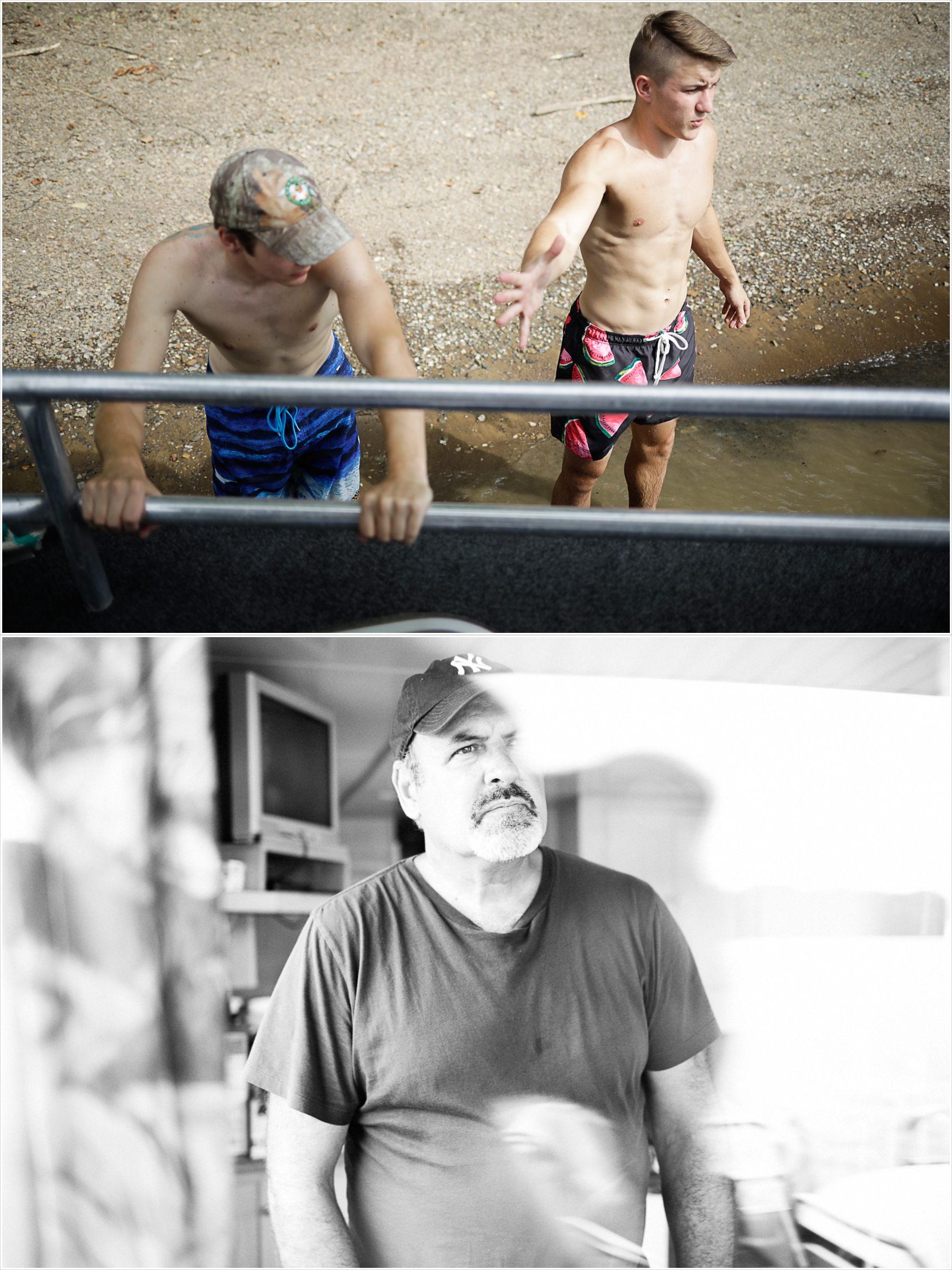 You will need at least one other adult to help you get your boat tied off when you are ready to "park" somewhere. It was nice having so many older sons who could jump out and get the heavy lifting done for us.
---
OUR HOUSEBOAT MENU:
WALKING TACOS: DINNER NO. 1
The tacos were a hit; the pictures…not so much. Boys. Haha. I cooked taco meat back home and froze it for the cooler. It was still frozen by the time we made it to our boat and ready just in time to feed my hungry fellas!
"I was very impressed with the size of the sink. Although it was average size, I expected it to be even smaller. The stove was itty-bitty, but it did the job of feeding these guys just fine."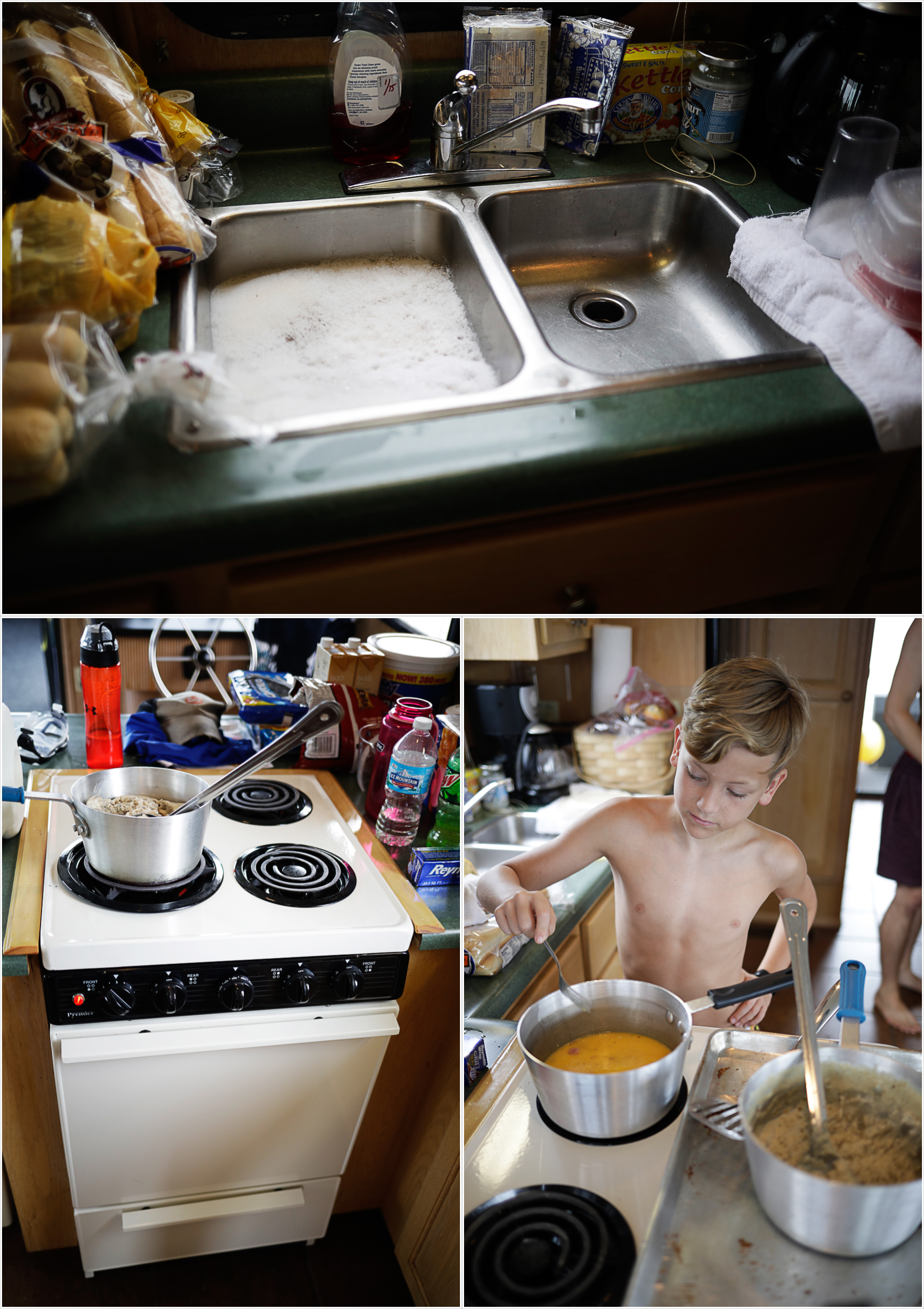 SCRAMBLED EGGS AND BISCUITS 'N GRAVY: BREAKFAST NO. 1
When you have a boat full of boys, cereal may not cut it. While I did bring boxes of cereal, I cooked sausage and gravy at home before we left for our trip. It stayed in the cooler until we got to the boat, then I transferred it to the fridge where it waited until the next morning. I baked the biscuits while on the boat. So, the bottoms got a little burned. Oops.
As far as the eggs, I grabbed three dozen FRESH eggs from locals back home. It is important that they NOT BE WASHED. If they haven't been washed, they do not have to be refrigerated; and, that was my goal: as little in the cooler or fridge as possible.
BRATS, WATERMELON AND MAC 'N CHEESE: DINNER NO. 2
The watermelon was a nice treat and it was just something that rolled around on the front deck until we were ready to eat it. Can't go wrong with a watermelon!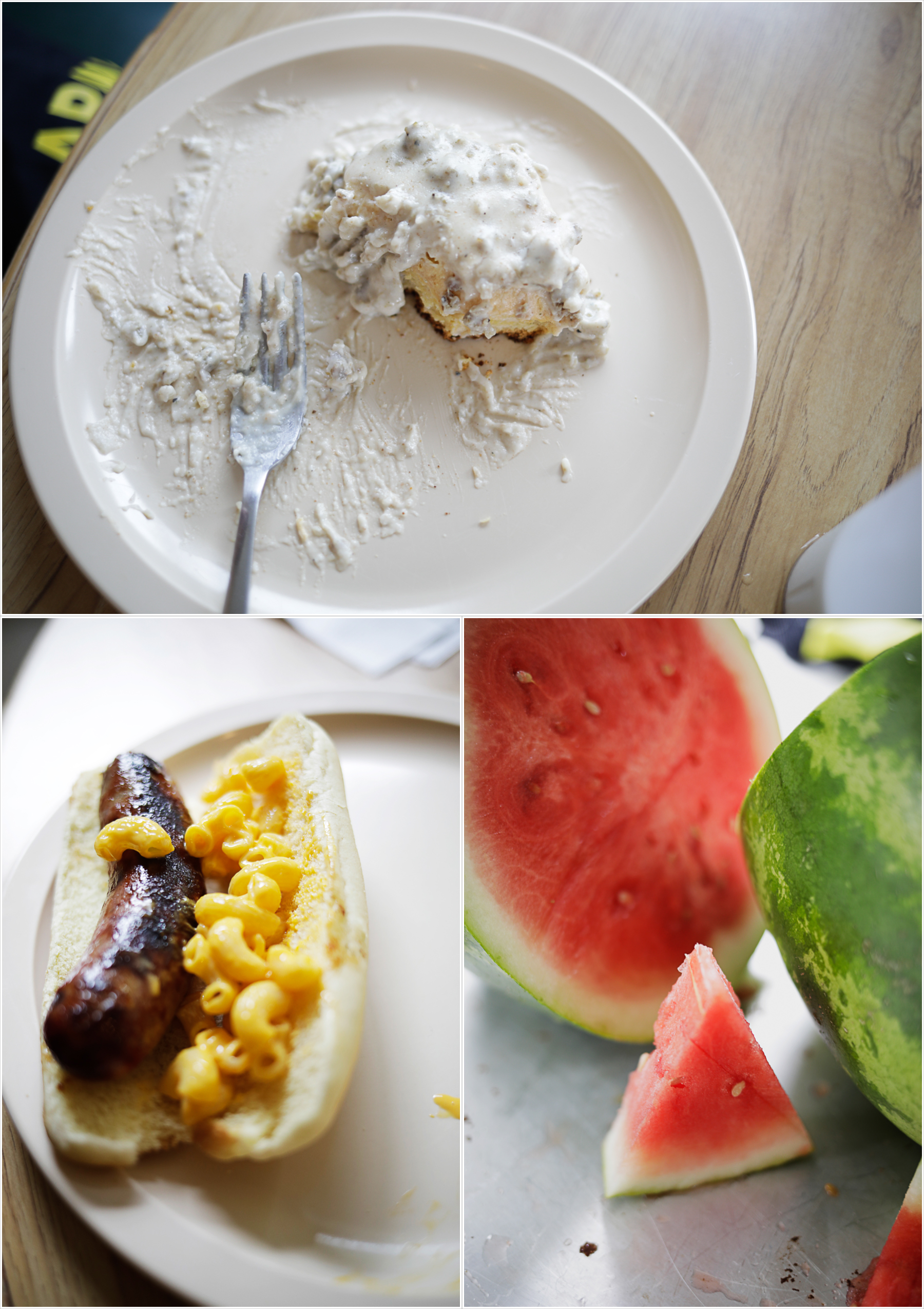 ---
Of course, you have to have things to entertain the masses when the sun goes down or you can start to feel a little trapped on board.
We tried to buy this game over Christmas and it was sold out. So, we were able to find one online in time to take on our trip. The older boys wouldn't try it out though. It is definitely a funnier game when playing with littles.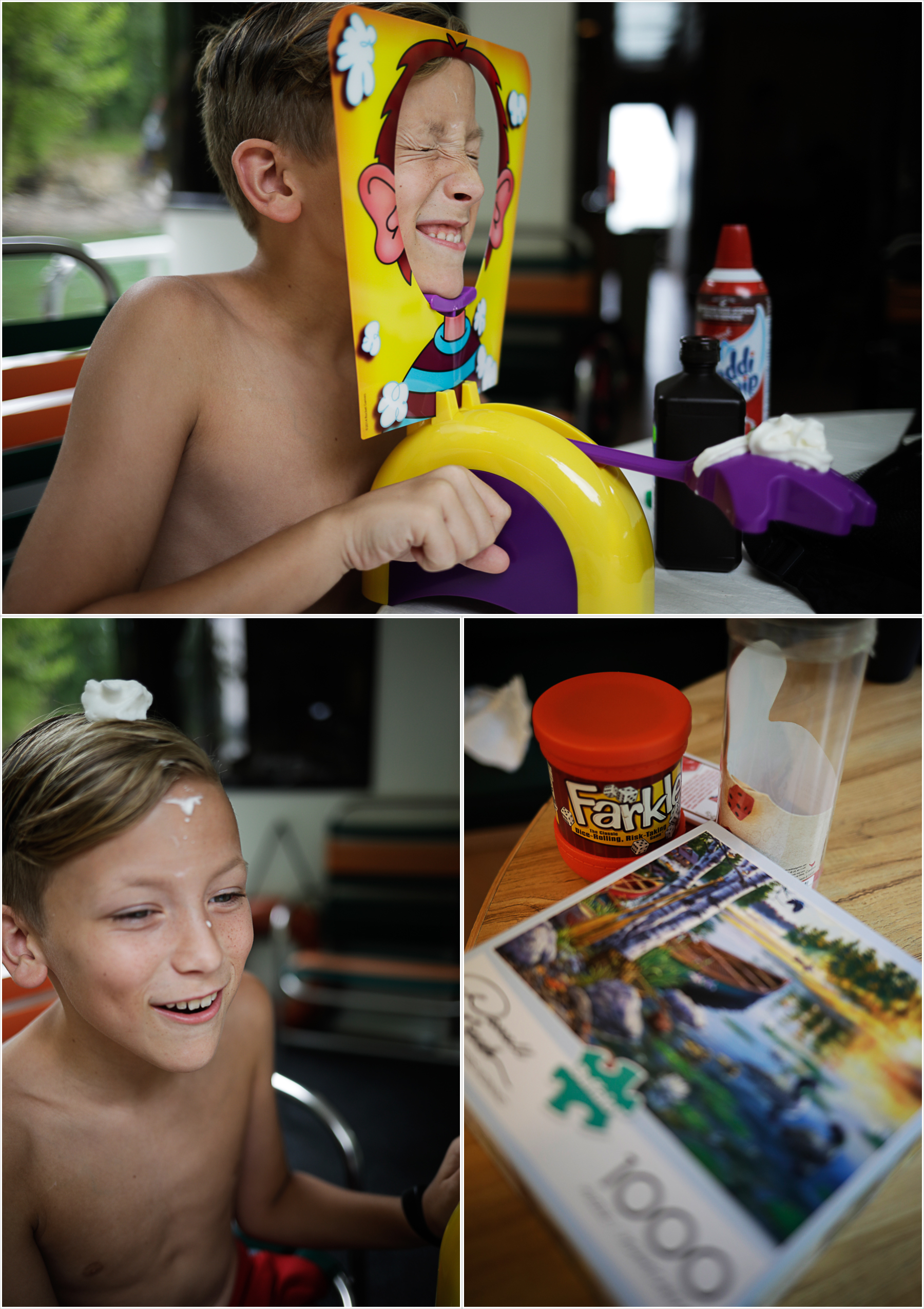 "We were able to finish off a 1,000 piece puzzle; I only recommend that for the puzzle enthusiast. If you don't LOVE puzzles, I would suggest one with fewer pieces."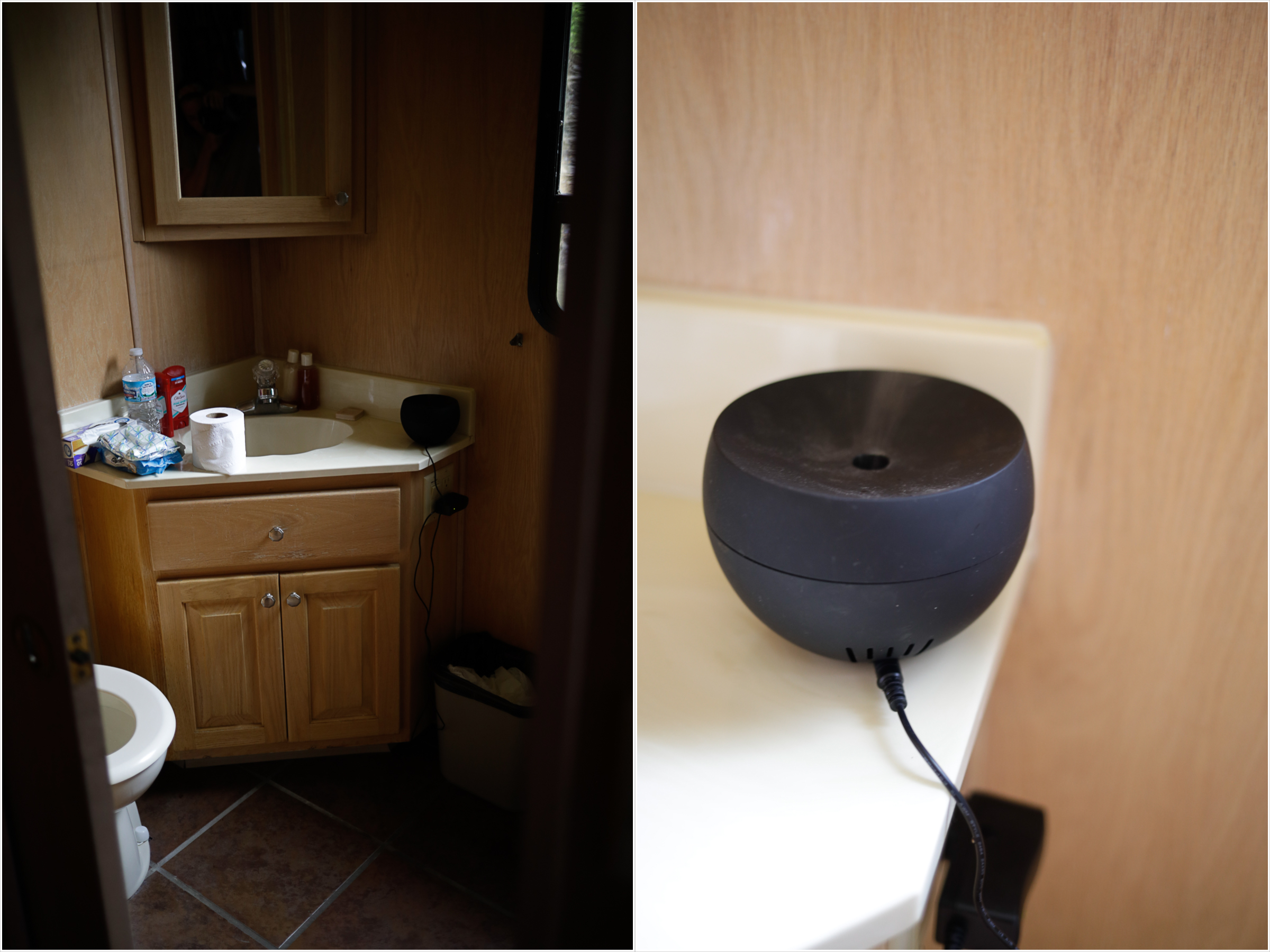 ---
Now, here is where things get serious. Let me tell ya! If you read nothing else, read this!
Your potty is going to stink–and, bad.
I had a friend who house boats every summer. So, I had the benefit of a little advice before I headed south with six males. And, this is my advice to you:
First off, plan to only go no. 2 on the boat when you are not tied off to land, if at all possible. So, do as the campers do and bring along a little shovel to dig and cover over your poopy when you trek out into the woods to do your morning constitution. If that is too primitive for you, plan appropriately; And, with that said, I will give you my potty survival packing list, first.
---
BATHROOM PACKING LIST
Pleasant smelling air freshener
Hand sanitizer
Hand soap
Small scented trash bags
Bathroom bottom wipes
Clorox® wipes
Small pail (like a small beach pail)
And, here is why I suggest packing these items…
Obviously, if it stinks, you will need air freshener. But, the important thing is that it is only going to mask the stink and not take it all away. So, it needs to be something that you enjoy smelling and know that you will probably never want to smell that air freshener again because it will be associated with your house boat potty for the remainder of your days on Earth.
And so, I took a diffuser with Lavender and Vetiver essential oils to use throughout the boat to keep the testosterone at bay, but I moved it into the bathroom to help overcome the stench. Unfortunately for me, is that I love both of those oils and cannot smell them without smelling the potty, too.
So, choose wisely.
You will need hand soap and hand sanitizer for obvious reasons.
CLOROX WIPES, AIR FRESHENER AND WET WIPES WERE LIFESAVERS
While it is indeed a Dale Hallow House Boat Adventure, there is one downside to it.
You don't have the amenities that you may be accustomed to. Therefore, I suggest bathroom bottom wipes because everyone will be getting hot and sweaty and wet; the quarters are super close; it is likely that people will choose not to shower in true camp fashion; and, it just helps that certain body parts are just the cleanest that they can be. You get me?
The Clorox® wipes are for wiping down the toilet seat, the sink counters and the light switches, etc. If you are like me, if things stink, you just feel like that stink is on everything. I would have felt better about the cleanliness of the bathroom if I could have gone in and wiped things down each evening. But–that's me. I will say, the bathroom was nice, overall; and really nice for a boat. The entire boat was very clean. It's just a mental thing, for me.
I suggest a small pail because if you accidentally run out of water from your water reserve, you are going to have to have a way to get lake water into the bathroom for people to use to wash down their poopy.
I saved the small scented trash bags for last because those need extra explanation. Here is where things can get a little gross…You cannot put your toilet paper down the toilet. A sign above the toilet read: "If you didn't eat it first, it doesn't go in the toilet"
PLAN FOR NOT BEING ABLE TO FLUSH PAPER PRODUCTS
This is what you have to do: you have to throw your toilet paper in the trash can!
Luckily, my friend gave me this heads up. So, I bought small bathroom trash bags that were scented. I told my family that EACH time that they went no. 2, they were to put their toilet paper in one of these bags, tie it off and THEN and ONLY THEN, throw it into the trash can. That really saved us.
If you do all of these things, you really only have to battle the smell coming from the holding tank under the boat. And, if you are ones who will be making a trip to the marina each day to get more water and to unload your holding tank, you are really going to be ahead of the game.
DALE HALLOW LAKE WAS SO MUCH FUN
If you do not bring shoes that can handle water, mud and rocks, you are going to really regret it–I promise! This is a must, must, must.
---
Our boat had three queen size beds and a pullout sofa. As you can see, the beds were sufficient. Just know that you have to provide your own bedding. So, DO NOT FORGET SHEETS. If you do, you will be sleeping on a plastic liner.
---
And, of course, there is always that one kid who –despite all of your hard efforts–will not take a serious picture for you to save their life.
---
4 THINGS THAT I WISH I HAD PACKED
Bath towels and wash clothes
Rope to tie rafts to boat
Paper plates, silverware and disposable cups.
First aid kit
---
2 THINGS THAT I DIDN'T KNOW TO PLAN FOR
At the end of your stay, you will have to pay for any fuel and propane that you used while out on the boat. I had done research and a friend said to average $100 a day for fuel. So, we tried to limit our driving and generator use. We did not go back to the marina to empty our holding tank and to get more water as often as we should have. I budgeted $400-$500 for this expense and owed $250 at the end. I regret not taking more trips to the marina because we quickly ran out of water and lived with a really stinky potty for too long.
If you empty your holding tank at your marina of origin, it is free…along with the water; however, if you stop and do this at another marina, they will charge you. Our marina told us to plan at least $35 for this.
---
WHAT I REGRET
I was trying to be responsible and not use all dishware that would end up in a trash can. So, I used the dishes that they provided and washed everything by hand. Boy, was that stupid. Not only did it consume our water reservoir, but we spent way too much time cleaning the dishes. If I could do it over, I would have used all disposable wares.
---
*4 Things I suggest for people with small children
Bring multiple baby gates. You want to trap small children to the interior center of the boat any time that you might be preoccupied.
A playpen would be a wonderful asset for while the boat is in motion. Kids want to be right out front watching the water and if a child could be confined, you would have more peace.
A fan would be helpful for when children nap. Children sweat so much when they are asleep and you won't be running the air condition 24/7.
I wish that there was a rope ladder on the boat. There is a ladder on the rear of the boat that is in the water, but it is so hard to get on and off of the boat from the front when you are tied off to land. It is impossible for small children.
---
That was our Dale Hallow House Boat Adventure. I hope that the information that I provided helps you have a house boat trip to be remembered! If you have any questions or suggestions, COMMENT BELOW and we can start a conversation. Also, follow me on Instagram or Facebook.
Would I do it over again? Absolutely!
---
Are you interested in more of our adventures? If so, you can check out the following blog posts:
OUR FIRST CRUISE TO THE BAHAMAS